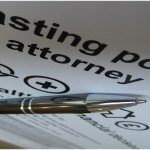 If you registered a Lasting Power of Attorney (LPA) or Enduring Power of Attorney (EPA) between 1 April 2013 and 31 March 2017, you may be entitled to a partial refund from the Office of Public Guardian (OPG) in respect of the registration fee. A Ministry of Justice review found that the OPG's operating costs were not in line with the registration fee during this period, so have opened a partial refund scheme that will be in operation until 31 January 2021. The partial refund is able to be claimed by either the donor or an attorney named on any LPA/EPA registered within this specific time period.
You can easily claim the partial refund online at the following site: https://www.gov.uk/power-of-attorney-refund.   You will need details of a UK bank account held by the donor as well as a copy of the LPA/EPA.
Alternatively, the refund can be claimed via the dedicated helpline on 0300 456 0300, selecting option 6. You will need to telephone if the donor does not have a UK bank account, or if a trust organisation is the attorney.
If you