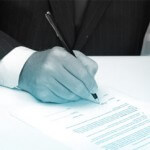 A director who was dismissed from her job while divorcing her husband, a director at the same company, was a victim of marital discrimination.
That was the decision of the Employment Tribunal in an unusual case involving Ms Kirsty Bacon and Advanced Fire Solutions.
The tribunal heard that Ms Bacon joined the company in 2005 as a bookkeeper and became a director in 2008. She later married Mr Jonathan Bacon, who became a director in 2013.
In 2017 Ms Bacon told her husband that she wanted to separate. She then took time off work to focus on her children. She returned after a few weeks, but Mr Bacon told her to take more time off so they could try to save the marriage.
During this time, however, the managing director of Advanced Fire Solutions, Graham Ellis, told
the company accountants to revoke her access to the computer systems because she was leaving.
Ms Bacon later told her husband that she wanted to go ahead with the divorce. The following day her job was advertised, and she was removed as a director.
She was then suspended on full pay while an investigation was carried out into her alleged misuse of confidential financial information.
Mr Bacon and Mr Ellis reported her to the police for an alleged cyber breach and other irregularities. The police said they would not be taking any action against her.
She then received a letter from Mr Ellis saying that she was being dismissed for alleged gross misconduct.
Ms Bacon brought a claim of unfair dismissal to the Employment Tribunal, which ruled in her favour.
It found that Mr Ellis subjected Ms Bacon to marital discrimination and victimisation.
Judge Robin Postle said Ellis was "complicit" with Mr Bacon in the way he dealt with the matter.
He said: "It is clear that Mr Ellis allowed Mr Bacon to use company funds to pay his solicitors divorce matrimonial costs, those were not repaid and that opportunity was not afforded to the claimant (Ms Bacon).
"(This was) clearly less favourable treatment and the reason for that treatment was the fact that Mrs Bacon was married to Mr Bacon and effectively Mr Bacon was pulling Mr Ellis's strings."
Ms Bacon's claim for compensation is currently suspended pending further proceedings as Advanced Fire Solutions, of Rose Lane, Norwich has gone into administration.
The concept of marital discrimination was introduced in the Sex Discrimination Act 1975, primarily to protect women from being dismissed from their jobs if they got married.
Please contact us if you would like more information about the issues raised in this article or any aspect of employment law.