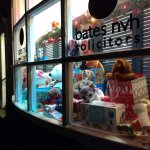 Congratulations to Team Odiham for winning a prize for best dressed window competition 2018.
It is part of our ethos to be involved with the local community and to support special events such as the Odiham Christmas Extravaganza.    We have taken part in the best dressed window competition every year since it was first started by InOdiham.
Looking to the future, plans are already underway to present an eye catching display for 2019.