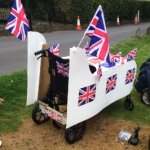 Bates Solicitors sponsored the Hartley Wintney Pram Race 2016 – a great community event attracting all ages and providing an opportunity for budding vehicle designers to demonstrate their skills in construction and road testing in this annual charity challenge.
Organised by St Johns Church, Rotary Club of Hart and The Friends of Hartley Wintney, with the assistance of Bates Marketing Director Laura Roberts the event raised £1,389.85 for Naomi House and Jacks Place (Hospices for children and young adults), Winchester.
In a letter of thanks from Naomi House and Jacksplace, Events Assistant Natalie Down said "Your donation of £1,389.85 raised at the Hartley Wintney Pram Race really does make an impact on the lives of the children and young people and families that use our care services".
If you would like more information about the Pram Race visit www.stjohnshw.org.uk/pram-race or contact Laura Roberts by email lroberts@batessolicitors.co.uk.
Images courtesy of Colin Summersgill