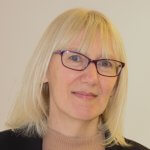 Job Title: Family Law Solicitor
Email Address: mnoy@batessolicitors.co.uk
Departments: Family Law
Phone Number: 01256 760074
Secretaries Names: Jill Fuller and Val Bailey
Specialist Area: Matrimonial Law, Pre and Post Nuptial Agreements
Career History & Expertise:
Michele Noy qualified in 1991 having studied at Guildford College of Law. Following on from her training in Winchester, she has worked for a number of firms in the South and for a few years in Yorkshire.
Following a short period in conveyancing Michele moved into family law and has gained extensive experience and expertise particularly in divorce and related finances, private law Children Act matters and disputes between unmarried couples.
Michele is sensitive and empathetic to the needs of her clients and takes a pragmatic and constructive approach to resolving their difficulties as quickly and cost effectively as possible.
Hobbies & Interests: Michele enjoys spending time with her two young grandsons – current favourite activities include bike riding, swimming and playing in the local park. All this activity together with a weekly Pilates class make up for the lattes and cakes in which she regularly indulges. Michele is also a keen reader and always has a book on the go.