Bates Solicitors Limited and Workforce Diversity 2015
INTRODUCTION
Bates Solicitors Limited, as a provider of legal services and an employer of staff, is committed to protecting the rights of individuals and to advancing equality of opportunity for all its employees.  It currently employs 66 staff at its offices in London. Weybridge, Leigh on Sea, Fleet, Odiham, Hook and Hartley Wintney.
In September 2015, it surveyed its staff to assist in the collection of equality and diversity data on a national level as required by the Solicitors` Regulation Authority.
74.2 % of its staff volunteered to participate in this Survey and Bates Solicitors Limited are publishing a summary of its findings from this survey.
SUMMARY OF WORKFORCE DIVERSITY as at September  2015
1. Employment and Ownership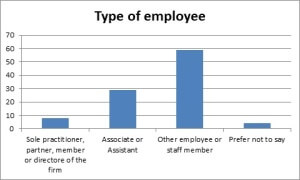 2. Age Distribution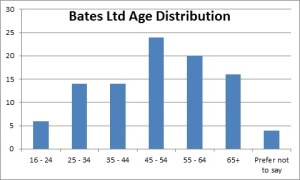 3. Gender:  40% of its Directors are male and 60% are female.  90% of its workforce is female. 85% of its fee earning staff is female, 82%  of the Solicitors providing services are female.
4. Disability:  4% of its staff are individuals with a Disability
5. Ethnicity: 84% of its staff are of British or any other white origin, 16% of its staff are of Black or Minority Ethnic Origin or of any mixed or multiple ethnic origin ("BME").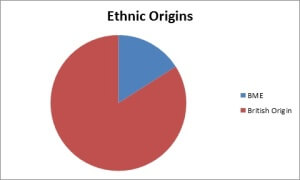 6. Caring Responsibilities:
16% of its staff have primary carer responsibilities for a child.
14% of its staff give help or support to family members, friends, neighbours or others because of either long term physical or mental ill-health or disability or problems relating to old age.
7. Socio-economic background
The first table identifies whether secondary education was received in the state or independent sector or outside the UK.
The second table identifies the number of employees who attended University and, of those who attended University, were of the first generation in their family to do so.  24% of those surveyed were of the first generation of their family to attend University.  The overall percentage figure of those members of staff surveyed and who attended University was 55%.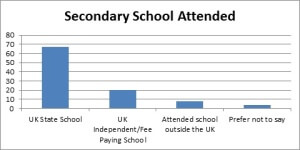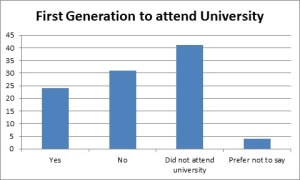 Notes
(1) Data current as at 1st September 2015
(2) Data has been rounded to the nearest per cent and only includes information that has been provided directly by individuals who participated in the survey. Data has been excluded which may provide personally identifiable information and in accordance with data protection requirements.
(3) The term "BME" has been used to describe individuals of non-white or mixed, multiple origin.