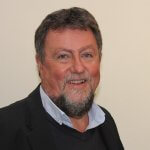 Job Title: Consultant Solicitor
Email Address: philipdavies@wallisprance.co.uk
Departments: Residential & Commercial Conveyancing and Private Client
Telephone: 01256 464311
Secretary's Name: Pat Jones
Specialist Area: Property Conveyancing
Career History & Expertise: Philip Davies graduated from the University of Liverpool and was admitted as a Solicitor in 1980. He has been an equity partner of Wallis Prance since the early 1990s.
Philip moved to Basingstoke from his birthplace of Liverpool to commence his Articles with Basingstoke council in 1978 and since that time he has undertaken a considerable variety of legal work. 
Hobbies & Interests: Philip enjoys watching rugby and playing golf at Basingstoke Golf Club where he is a member. He also likes walking the spectacular countryside and coastal paths of the British Isles.