INTRODUCTION
Bates Ltd, as a provider of legal services and an employer of staff, is committed to protecting the rights of individuals and to advancing equality of opportunity for all its employees. It currently employs 63 staff at its offices in London. Weybridge, Leigh on Sea, Fleet, Odiham, Hook, Hartley Witney and Basingstoke.
In June 2019 it surveyed its staff to assist in the collection of equality and diversity data on a national level  as required by the Solicitors` Regulation Authority.
88 % of its staff volunteered to participate in this Survey. Bates Ltd are publishing a summary of its findings from this survey. The information set out below represent the make- up of the firm as at 1st August 2019.
SUMMARY OF WORKFORCE DIVERSITY as at September  2019
1. Employment and Ownership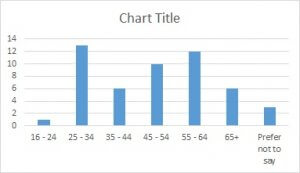 2. Age Distribution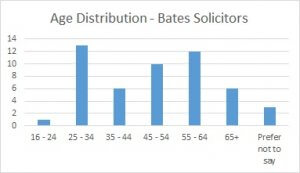 3. Gender:     84 % of the Bates Ltd workforce identify themselves as female whilst 12% identify themselves as male.  67% of its Directors are female and 33% are male. In each category of its workforce females are more prevalent than male workers.
4. 2% of staff considered their gender identity to be different from the registered sex at birth?
5. Disability:    There is no change in the number of staff in the firm who considered themselves to be have a disability as defined by the Equality Act; currently amounting to 6% of the workforce.
6. 8% of the workforce assessed that their day-to-day activities were limited because of a disability or health problem which has lasted or is expected to last at least for 12 months.
7. Ethnicity:    88%of the workforce described themselves as white.  4% of the workforce identified themselves as Asian or of mixed or multiple ethnic groups; whilst another 4% of described themselves as white and non British.
8. Religious Belief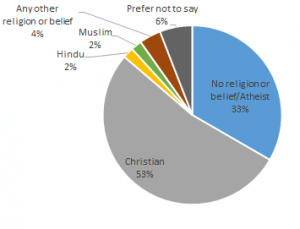 9. When asked what is your sexual orientation? 92% responded as Heterosexual/straight.  8% preferred not to say.
10. What type of school did you mainly attend between the ages between the ages 11 and 16?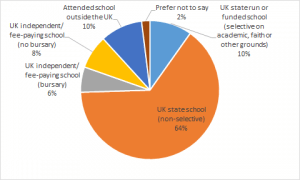 11. What is the highest level of qualifications achieved by either of your parent(s) or guardian(s) by the time you were 18?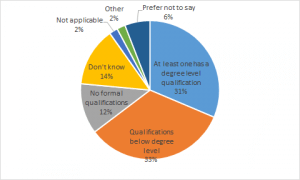 12. Thinking back to when you were aged about 14, which best describes the sort of work the main/ highest income earner in your household did in their main job?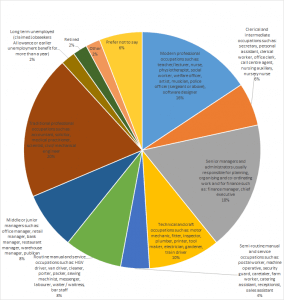 13. Caring Responsibilities:
27% of the workforce are described as having primary carer responsibilities for a child or children.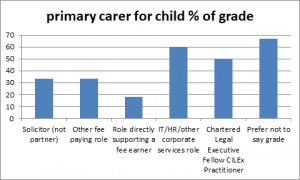 14. Caring Responsibilities
14% of the workforce look after or care for someone with long term physical or mental ill health caused by disability or age but not in a paid capacity.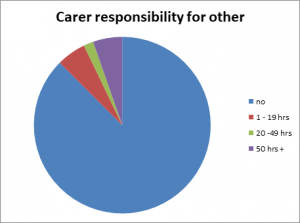 Notes
(1) Data current as at 1st August 2019
(2) Data has been rounded to the nearest per cent and only includes information that has been provided directly by individuals who participated in the survey. Data has been excluded which may provide personally identifiable information and in accordance with data protection requirements.
(3) The term "workforce" includes all those  who provided information for the question involved.