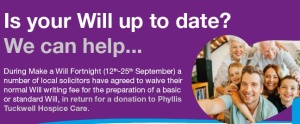 Make a Will Fortnight 2016 provides local solicitors with an opportunity to support the Phyllis Tuckwell Hospice fund raisers by offering to provide Will writing services for free in return for a donation to Phyllis Tuckwell Hospice.   PTH suggest a minimum donation of £200.00 for a basic Will.
Phyllis Tuckwell, the wife of Sir Edward Tuckwell an eminent surgeon at St Bartholomew's Hospital, London, was diagnosed with cancer in 1949.   Following her death, fundraising commenced with the aim of building a modern Hospice in Surrey.   For the full story of the project and the people, including Dame Cicely Saunders, Yvonne Dale and Sir George Edwards, who contributed to towards it click here.
The Trust is well known locally for providing support and care for people living with a terminal illness (such as cancer, heart, lung or neurological disease).  Currently, the Trust supports over 250 people free of charge.  According to their handout, in order to be able to provide these vital services, Phyllis Tuckwell Hospice needs to raise over £20,000.00 each and every day.
Head of Private Client Department, Nicola Browett has participated in this scheme since 2013.    Speaking about the Trust, Nicola said "Many clients consider leaving legacies or a share of the residue of their Estate to charities.   As well as the national and well-known charities, people may choose to make local charities beneficiaries of their Will.   Often they have a close or personal connection with the work of their chosen charity".
All the Bates Solicitor 'Phyllis Tuckwell Scheme 2016' appointments have been booked.
However, we can still assist you now if you are considering making a Will or updating an existing Will.
Our Will specialists are available to attend appointments in our Fleet, Hartley Wintney, Hook, Odiham, Leigh on Sea, Weybridge and London offices.    Home appointments are also available.
Bates Solicitors   –    Actively supporting local Charities