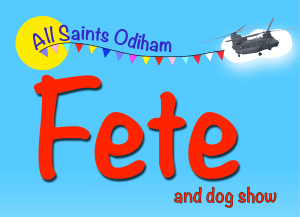 Bates Solicitors again supported All Saints Odiham Fete and Dog Show Saturday 14 July 2018, held in the grounds of Hatchwood House Odiham.The annual event featured a Chinook helicopter visit, dancing displays, bouncy castle, teas and home made cakes as well as lots of stalls and games in this traditional English village fete.   With a continuous stream of visitors  this years event was a great success.
In a letter of thanks to the sponsors and supporters Chris and Pauline Dudgeon said "It all seemed to go very well and was clearly enjoyed by everyone. We think we had just about 2,000 people attending, and net income of about £10k, which is a tremendous result given stiff competition from Wimbledon, World Cup, and sweltering heat…".
Our Private Client legal specialist Briony Davies attended on behalf of Odiham and Hook Rotary Club and took a turn greeting visitors as they entered the extensive gardens of Hatchwood House.
For more information about All Saints Church Odiham visit their website